Annual Art Festival Returns to Oswego Sunday
Aug 13, 2014 05:15PM ● By Steven Jack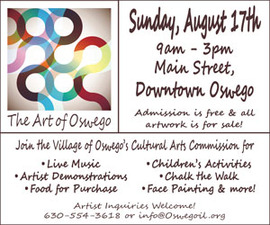 Oswego's annual downtown arts festival returns this weekend.
Scheduled for 9 a.m. to 3 p.m. Sunday, Aug. 17, along Main Street, the Art of Oswego will feature artists from around the Midwest and several local artists, as well. 
Admission is free and all art that is on display is also for sale.
Several free children's activities are planned, including the Oswegoland Optimist Club Chalk the Walk contest in which kids can draw pictures on the sidewalk outside the Old Fire Barn for prizes. Registration begins at 11 a.m. and judging begins at 2 p.m. 
Students from The Fox River Academy of Music and Art also will be on hand to provide musical entertainment, and the academy also will host other children's activities throughout the day.
Don't miss the opportunity to have your photo taken with  Mini Abe, who will make an appearance at the festival.
RELATED: Mini Abe Coming to Oswego
Food will be provided by the Oswegoland Seniors Inc., and don't forget that the Oswego Country Market will be happening simultaneously downtown from 9 a.m. to 1 p.m.
For more information on the festival, follow the Oswego Cultural Arts Committee on Facebook.