Not Approved for Occupancy: Little Can Be Done with Condemned and Abandoned Homes
Mar 06, 2014 02:48PM ● By Steven Jack
The front door at 30 Primrose Lane in Oswego is covered in notices from the village stating the home has been condemned and isn't fit for occupancy. Submitted by Kim Miller
[0 Images]
Click Any Image To Expand
What can you do if a home in your neighborhood has sat condemned and empty for six years and is driving down local property values? The truth is, not much, and that's exactly what some residents in Oswego's Odgen Falls subdivision are discovering.
The home at 30 Primrose Lane in this neighborhood with tight streets and even tighter yards was abandoned in 2008. It looks nearly identical to its neighbors except for the sloping porch overhang that's created a gap big enough for squirrels to come and go as they please.
"When we first moved here in 2011 we were walking past and it was around Halloween," said Ogden Falls resident Kim Miller. "We thought 'wow this house has really gone all out with the decorations.' Turns out that was just the condition of the home."
Don't forget to sign up for the Only Oswego weekly newsletter and follow us on Facebook.
Miller and her neighbors believe it's not only squirrels who have taken up residence. She said she's seen dimmed light coming from inside  on occasion and a look through the windows reveals piles of garbage strewn around the home — evidence of occasion squatters.
Miller said she began asking questions of the subdivision's homeowner's association board late last year and got very few answers. So, she decided in January to contact Patty Lariviere, the village of Oswego's Building & Zoning Department manager.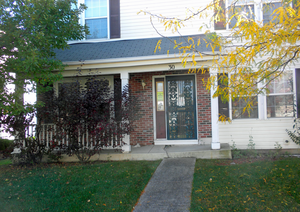 Lariviere revealed that since 2008 the home has incurred about $12,000 in various fines, which have not been paid. Online records show that the home was last owned by Ambrose Wallace, but that foreclosure proceedings began last summer.
Who, if anyone, has been paying the mortgage or homeowner's association dues is a mystery. A representative of the homeowner's association would not comment about whether the monthly maintenance fees were being paid for the last six years and neither would the property management company Nemanich Consulting & Management of Joliet.
The village has placed a lien on the property for the amount of the fines, but can not collect them until a sheriff's sale of the property.
"It is difficult for the Village to do much with abandoned properties other than address property maintenance code violations," said Lariviere. "When a property becomes uninhabitable (such as 30 Primrose), we post it as such. Should the house sell to another owner or a bank take possession, they would have to bring it up to our building codes before anyone could occupy the property. In the case of 30 Primrose, the HOA management company handles the lawn care, which is good for the surrounding neighbors, but it gives the Village no reason to further issue most property maintenance violations or pursue further action."
Moreover, the village isn't about to order the home demolished.
"We typically do not pursue actually having the house demolished due to strict legal requirements and the potential for liability issues," Lariviere said.
The bright side is that abandoned foreclosures have become less of an issue around the village as the economy improves and the homes are purchased, Lariviere said.
"Our continuing issue is vacant properties which developers have abandoned and may not be developed for some time," she said.
So, it appears all Miller and her neighbors can do is wait for someone to purchase the home and make the required repairs.
"It seems unreal that nothing can be done," she said.