Bald Eagle Seen in Lakeview Estates
Mar 04, 2014 06:33PM ● By Steven Jack
Lakeview Estates resident Sue Boldt captured this image Monday of a Bald Eagle near Bartlett Lake.
A resident of Lakeview Estates captured images Tuesday of bald eagles at Lake Bartlett in Lakeview Estates.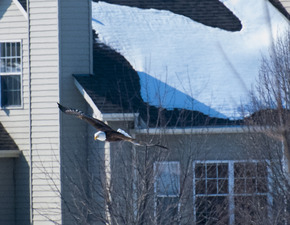 Resident Sue Boldt was able to photograph a lone eagle Tuesday soaring around the lake. 
"Our home backs to the lake which is located within Lakeview Estates," Boldt wrote in an email.  Most of the images we've been seeing have been from the Route 25 area,  so I was surprised and delighted to see one in another location!"

Bald Eagle sightings along the Fox River have become more and more common in recent years near Violet Patch Park.